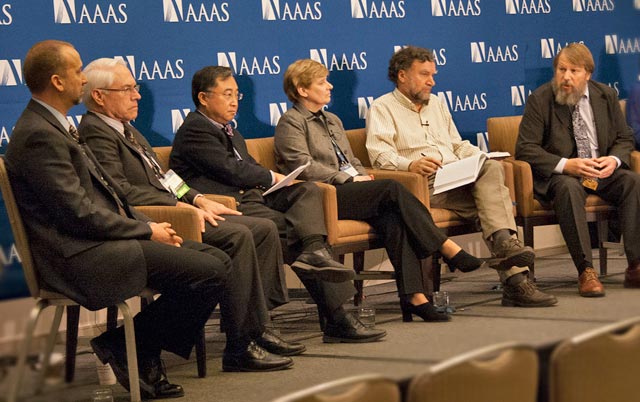 Particle Beam Cancer Therapy: The Promise and Challenges
Advances in accelerators built for fundamental physics research have inspired improved cancer treatment facilities. But will one of the most promising—a carbon ion treatment facility—be built in the U.S.? More...
Using Signal Analysis for STEM Education at Farmingdale State College

Lev Neymotin worked with the chair of Farmingdale State College's mathematics department to establish the Interdisciplinary Signal Analysis Laboratory, where students explore the benefits of sharing different approaches to data analysis. More...

Simon Billinge Named 2014 NSSA Fellow

Simon Billinge, a physicist at Brookhaven National Laboratory and a professor at Columbia University's School of Engineering and Applied Science, has been made a Fellow of the Neutron Scattering Society of America. More...

"Dynamic" Duo Canellakis-Brown to Perform at Brookhaven Lab, March 12

The duo of cellist Nicholas Canellakis and pianist/composer Michael Brown will perform at BNL on Wednesday, March 12, at noon in Berkner Hall. The concert is free and open to the public. More...






Upcoming Events
Brookhaven Women In Science (BWIS) Event
"Celebration of International Women's Day"
Multiple speakers
Saturday, March 8, 9 a.m.
Large Seminar Room, Bldg. 510
Details...
PubSci
"Big Bang Physics and the Building Blocks of Matter"
Berndt Mueller, Paul Sorensen, Agnes Mocsy, Brookhaven National Laboratory and Pratt Institute
Tuesday, March 11, 7 p.m.
Hoptron Brewtique, 22 West Main St., Patchogue, NY
Details...
BSA Noon Recital
"'Dynamic' Duo Canellakis-Brown to Perform at Brookhaven Lab"
Wednesday, March 12, 12 p.m.
Berkner Hall Auditorium
Details...
Newsclips
Particle Beam Cancer Therapy- Hope Amidst Challenges
—The Global Dispatch
Black Swans And Endogenous Uncertainty
—Forbes
Major U.S. Science Agencies Face Flat Prospects
—Science
University researchers optimize biofuel potential of sugarcane, sorghum
—Daily Illini (University of Illinois)
12 LI middle schools compete in Regional Science Bowl
—Newsday