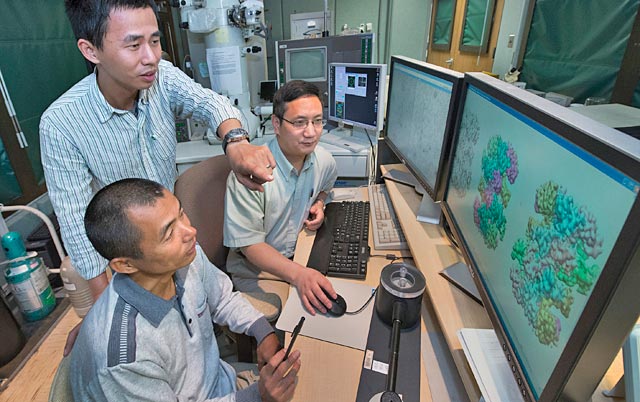 Scientists Map Key Moment in Assembly of DNA-Splitting Molecular Machine
Crucial steps and surprising double-ring structures are revealed during the genesis of the enzyme that divides the DNA double helix during cell replication. More...
Brookhaven Lab Names Former Director Nicholas Samios Senior Scientist Emeritus

Nicholas Samios, a former Brookhaven Lab director whose career as a Lab employee spanned 55 years, was named senior scientist emeritus when he retired Sept. 30, 2014. More...

Séamus Davis Selected to Receive New Grant for Exploring Exotic Quantum Phenomena

A physicist who explores the quantum quirks of high-temperature superconductors and other exotic materials at Brookhaven Lab and Cornell University has been selected to receive a new grant to delve further into the mysteries of quantum materials. More...

Cooking Up Quark-Gluon Plasma with 'Science Friday'

Brookhaven Lab's Media & Communications Office hosted a video crew from Science Friday on NPR to learn about how our physicists cook up quark-gluon plasma. More...

Unstoppable Magnetoresistance

Scientists discovered a material whose magnetoresistance displayed unlimited growth, making it the only known material without a saturation point. Essential electron microscopy studies were performed by Jing Tao at Brookhaven Lab. More...

498th Brookhaven Lecture Wednesday, 10/22: 'Vector Boson Scattering: Watching the Higgs Boson at Work with the ATLAS Particle Detector'

With the Kansas City Royals and San Francisco Giants squaring off for the 2014 World Series, professional photographers at the games will rely on cameras that weigh about 3.5 pounds and can shoot up to 14 photos per second. When high-energy protons face off for head-on collisions at the Large Hadron Collider, physicists from Brookhaven Lab and 177 other institutions rely on the ATLAS detector, a "camera" weighing more than 15.4 million pounds that can snap 40 million "pictures" per second. More...

Visual Neuroscientist Susana Martinez-Conde to Talk on 'Neuromagic' at Brookhaven Lab, 10/23

Neuromagic is a new discipline of research where scientists are studying the techniques magicians use to deceive the human brain. Magic can reveal how our brains work, leading to the better understanding of human behaviors and new approaches to endeavors ranging from the diagnosis of autism to marketing techniques. More...

Students Conduct Hands-On Exploration of Long Island's River Eco-Systems

"A Day in the Life of the Peconic Estuary" was the second of three days of field study that introduced nearly 2,000 students to techniques used to study water and other environmental issues on three of Long Island's four major river systems. More...






Upcoming Events
BSA Noon Recital
"Piano Concert: Christina & Michelle Naughton"
Wednesday, October 22, 12 p.m.
Berkner Hall Auditorium
Details...
Brookhaven Lecture
"498th Brookhaven Lecture: 'Vector Boson Scattering: Watching the Higgs Boson at Work with the ATLAS Particle Detector'"
Marc-Andre Pleier, Physics Department at Brookhaven Lab
Wednesday, October 22, 4 p.m.
Berkner Hall Auditorium
Details...
Brookhaven Women In Science (BWIS) Event
"Neuroscientist Susana Martinez-Conde Talk on 'Neuromagic'"
Susana Martinez-Conde, Laboratory of Integrative Neuroscience, SUNY Down State Medical Center, Spain
Thursday, October 23, 4:30 p.m.
Large Seminar Room, Bldg. 510
Details...
Newsclips
Crash Course in Science
—Wall Street Journal
The Great Climate Model
—Forbes
Stop me if you've heard this one: Four physicists walk into BAR…
—Yale News
Scientists still play video games on their expensive laboratory equipment
—Polygon